Can an unfavorable review impact your business?
If properly handled, negative reviews can provide a business with an opportunity to actually boost its reputation.
With the surge of digital media and the growing use of social media, it has become extremely easy for both businesses and consumers to reach a captive worldwide audience at little to no time or expense.  Social media has helped drive many protests, actions in support, and boycotts in just a small amount of time.  This ease of access and use of social media could severely damage a business' livelihood if the reviews or messages are negative and not addressed appropriately.
There are several considerations that should be made when deciding whether to respond to a negative review.  For instance,
Does the review contain opinion, "facts," or both?
Whether to contact the person who wrote the negative review.
Communicating with the company or website which hosts or published the troublesome response.
Publicly responding to negative online reviews.
Turn a negative into a positive, or at least an opportunity.
Another consideration offered by Yelp when deciding whether to respond is to determine if the review contains constructive criticism or is just undeniably negative.  The appropriate response for the business depends on this classification.  If the review is extremely negative and uses colorful language, it may be best to be left alone as nothing constructive could arise when emotions are involved.  When emotions are involved it will be difficult to change the person's mind or sufficiently correct – in their subjective eyes – the problem.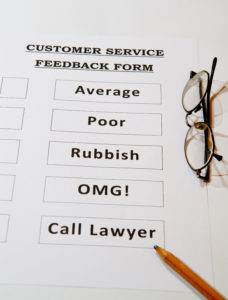 It is also important to look at reviews of other customers.  If there are more positive reviews than negative, the negative may not affect whether a future customer decides to purchase the business' product or service.  For example, when I am deciding whether to make a purchase, I examine the online reviews.  I look to both negative and positive reviews but I only give sufficient credibility to those reviews that provide constructive feedback instead of generalizations because I want to know if the reviewers' standards are similar to my own.  Further, some persons are suspicious of any business which has, for example, 20 reviews, all of which are positive, or all of which are "5 out of 5 stars" – that does not seem realistic to many of us.
Once the business determines that the review warrants a response, then a very effective way to neutralize the negativity is to publicly respond to the review.  A public response shows that the business is concerned that the customer was not completely satisfied with the purchase and would like to remedy the situation.  This will show other present and future consumers that the business cares about customer satisfaction and is willing to go to significant efforts to remedy any dissatisfaction.  It also shows that the business knows about the deficiency and the deficiency should be remedied going forward.
In the public response, the business should never get defensive or place blame because no one is perfect and it is impossible to satisfy everyone.  There is always going to be criticism, it is how the business handles the criticism that affects its reputation and possibly its bottom line as well.  Reaching out and offering solutions to customers is a way to not only boost customer satisfaction but it is a way to boost brand loyalty and neutralize any negative reviews.
Additionally, to facilitate helpful reviews, the business could provide discounts, rewards, or other benefits to the reviewers that provide the most comprehensive or helpful information which may benefit future purchasers in making buying decisions.  One way that a business that I have dealt with personally has succeeded in encouraging reviews is by providing the product along with a free sample of other products they supply.  Then, they sent a separate request and asked that I provide an online review and if I was dissatisfied to contact the business immediately so that any problems could be resolved expediently.
All in all, the best way to respond to a negative is with something positive.  There is an old saying which states that "you can attract more flies with honey than vinegar."  That rings true not only when trying to convince someone to do the things you want them to do, but also to neutralize negative experiences.  The best form of advertising is personal experience and word of mouth (whether verbal or via the internet).  If you can turn someone's negative personal experience into a positive by remedying the situation, you may have just turned a loss into a gain.