Prenuptial Agreements
Prenuptial Agreements: Frequently Asked Questions
Prenuptial Agreements are also known as Premarital Agreements and Antenuptial Agreements. Some refer to such an agreement by the shorthand designation "PNA".
1. What are some of the reasons people want a prenuptial agreement?
While a prenuptial agreement simplifies the process of divorce, it also can be seen as a proactive dispute resolution system. It promotes communication between future spouses so they are fully aware of the other's financial situation and other issues prior to marriage.
If you are a person who has substantial individual or family assets, a prenuptial agreement attorney may be a great way to specify how debt and other financial issues will be handled in the marriage.
Additionally, some people who have gone through a divorce before may want to avoid some of the mistakes made the first time.
If you are in a same sex relationship and want to make the relationship official, a prenuptial agreement can utilize contract law to determine the rights of each party upon dissolution.
2. Who is more likely to want or need a prenuptial agreement?
Parties who have substantial assets and want to protect premarital and inherited assets at divorce.
A party who has a professional practice or other service business and wants to limit a spousal claim.
Someone whose intended spouse has substantial debt or a support obligation from a prior marriage.
A party that is entering into a second marriage and those who have children from previous relationships.
An older couple that is blending their families together and want to limit the spousal elective share so their children can inherit their assets.
A party who had an expensive divorce and wants to avoid a repeat of that situation.
Persons who have watched their friends or parents divorce.
Same-sex couples who may or may not have the protection of the law regarding their union and division of assets upon the dissolution of that union.
3. What are a few of the benefits of having a prenuptial agreement?
A prenuptial agreement promotes communication before marriage about assets and liabilities.
It provides certainty as to rights and obligations on divorce.
It may increase trust about the other's intentions.
It may reduce the chance of litigation upon divorce and in addition reduce those litigation costs.
4. What are some of the things a prenuptial agreement can do?
A prenuptial agreement establishes how property matters will be handled in the future.  It determines the rights and obligations of each party with regard to the right to buy, sell, use, transfer, exchange, abandon, lease, or otherwise dispose of, control, or manage certain property.
A prenuptial agreement can establish the future dispositions of property upon separation and/or marital dissolution.
A prenuptial agreement can modify or eliminate spousal support.
It can limit a spousal claim to property acquired during marriage.
It can limit or waive the right to attorney's fees in the event of divorce.
Parties to PNAs can agree to alter the default rights and obligations under the law in many ways, but as a general principal they cannot negatively impact the well-being of a child, violate public policy, or contract to commit a crime.
Should my future spouse and I be represented by the same attorney?

No.

What are some factors which impact the validity of a prenuptial agreement?

A prenuptial agreement must be in writing, signed by both parties, and becomes effective at the time of the marriage.
The agreement must be entered into voluntarily by both parties. Each party must voluntarily and fully disclose to the other information about their property and financial obligations, or must voluntarily waive such a disclosure in writing. If neither of these things has happened, and one party could not reasonably have known the relevant information, the agreement may not be enforceable.
It is best to execute a prenuptial agreement well in advance of the wedding to avoid one party later claiming (s)he did not have time to fully consider the issues.
PLEASE BE MINDFUL THAT THIS INFORMATION IS NOT INTENDED TO BE A COMPREHENSIVE LEGAL ANALYSIS OF PRENUPTIAL AGREEMENTS, AND IT IS NOT LEGAL ADVICE. EACH STATE HAS DIFFERENT LAWS. EACH CASE AND CLIENT ARE DIFFERENT, AND ARE EVALUATED ON AN INDIVIDUAL BASIS. THANK YOU.
---
See Recent Blog Posts Related To Prenuptial Agreements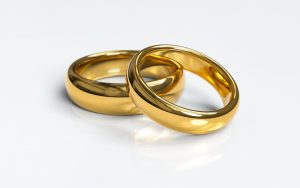 November 21, 2018
As most of my friends are getting married or are recently married (myself included), I frequently get asked why anyone would want a prenuptial agreement. Prenups can …
Read More