This is one of a series of articles by our law firm on the topic of registered agents. For more articles on this topic, click here to access the "Registered Agent" category of articles, or select a title below.
More articles coming soon!
Who / what can be the Registered Agent for a business in North Carolina?
See further down past the table for additional information and clarifications.
Can you "be your own RA"? Stayed tuned for our next article to find out.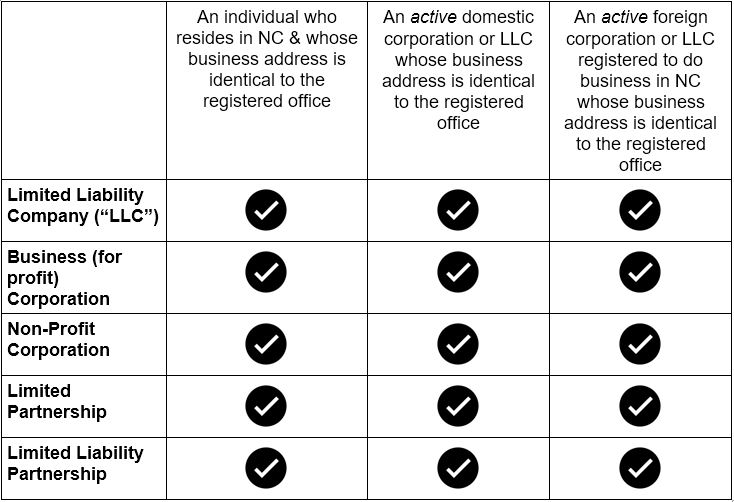 Are the laws / rules summarized above the same for "domestic" North Carolina LLCs and corporations as well as "foreign" LLCs and corporations registering or registered in NC? Yes.
The table above says that if the RA is an LLC or a corporation, it has to be an "active" one – what does that mean? This is best interpreted to mean that the LLC or corporation serving as Registered Agent itself must be (and remain) in good standing with the North Carolina Secretary of State Corporations Division. For example, the LLC or corporation serving as Registered Agent should NOT be or become administratively dissolved or under a state of suspension due to tax issues with the North Carolina Department of Revenue.
Does this mean my company can be its own Registered Agent? Great question! Click here to read about that.
Does this mean I, as an owner, officer, and/or manager can be the Registered Agent? Maybe, but even when the answer is "Yes", that may not be the best idea. Click here for more information.
What about the reference to the "registered office"? Click here to understand the Registered Office requirements.
Are these laws / rules the same for all of North Carolina? Yes. The laws and rules on this issue are the same whether your business or Registered Agent is located in Ashville, Boone, Cary, Charlotte (or anywhere else in the "Great State of Mecklenburg"), Durham, Fayetteville, Greensboro, Raleigh, Wilmington, or any point in between in our State.
The consequences of not having a Registered Agent or not having a legally compliant RA will be explored in another article, but suffice it to say that your LLC, corporation, or other relevant business entity can suffer significant loss of legal rights and even end up with a court order, judgment, or other legal decree against it.
The bottom line: it's vitally important to have a Registered Agent who is compliant and reliable.
(In case you were wondering, yes, our law firm does serve as a registered agent in both North Carolina and South Carolina, feel free to reach out to us if you'd like to know more by clicking here or calling us at 800.481.2180.)