City Lab
, a division of 
The Atlantic
, Jan 12, 2015 – Yet, as highlighted by a recent 
Charlotte Observer
 editorial, the project's … 
Jason McGrath
, a Charlotte attorney experienced in real-estate … (full story linked and pasted below)
Investing in NASCAR: What Could Go Wrong?
SAM STURGIS  JAN 12, 2015
⬧
Charlotte's NASCAR Hall of Fame crashed hard. As the city preps for an $18 million debt-forgiveness vote, homeowners wonder where their bailouts are.
We just rang in 2015, but the city of Charlotte, North Carolina, would love to see the calendar flipped back to 2005.
That was the year NASCAR cemented its position as one of the United States' most popular sports. Fortune magazine drooled over the racing juggernaut a decade ago, proudly declaring NASCAR "the fastest-growing, best-run sports business in America—with the emphasis on businesses."
But the financial viability of NASCAR has crashed in recent years amid plummeting race attendance and growing disinterest in car racing among Americans. And nothing symbolizes the sport's tragic decline more than its Hall of Fame, which broke ground with great expectations in 2007 and officially opened in 2010—and is now hemorrhaging money for the city of Charlotte.
Monday night, Charlotte's city council is expected to pass a loan-forgiveness deal that will eliminate nearly $18 million in debt the city owes on the NASCAR Hall of Fame. Opening the glitzy development cost the city $200 million, but the project was viewed as a crucial job creator for downtown Charlotte, undergoing noticeable revival. Today, to call the NASCAR Hall of Fame a financial disaster would be an understatement.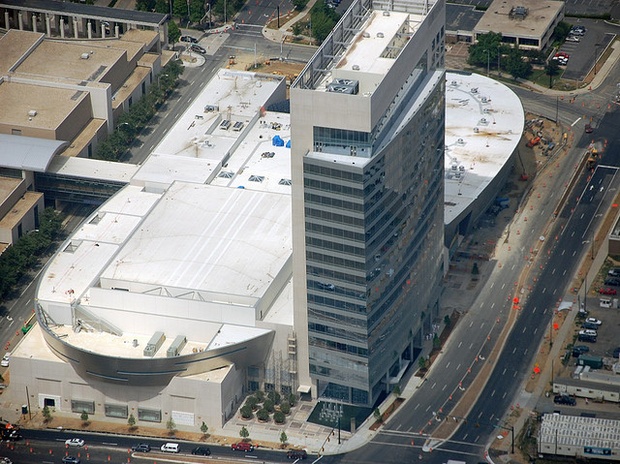 The NASCAR Hall of Fame, under construction in 2007, features a 278-seat theater, meeting halls, and a cafe. (Flickr/James Willamor

)
Early projections had the city-owned Hall of Fame pulling in revenues of up to $1 million annually. Instead, according to Sporting News, the venue has lost over $5 million since opening. Attendance is abysmal. Developers expected at least 400,000 visitors annually, with the potential to attract up to 800,000. Over the past five years, however, only about 170,000 NASCAR fans have visited the venue each year, or 470 per day. One official representing the NASCAR Hall of Fame acknowledges some financial projections have not been met, but insists, "the Hall is doing well." Tom Murray, CEO of the Charlotte Regional Visitors Authority, which overseas large city-owned assets, says the NASCAR Hall of Fame will earn money or break even if the debt deal is agreed upon.
City officials are framing today's debt deal as a "restructuring" rather than a bailout. Yet, as highlighted by a recent Charlotte Observer editorial, the project's downfall can't really be spun:
It doesn't camouflage that the Hall of Fame couldn't survive on its own. It doesn't change the fact that the city, when it bid for the hall, miscalculated everything from attendance projections to the arc of NASCAR's popularity.
The failure of the deal becomes even more clear as cities struggle to pull out of the Great Recession. Charlotte was spared the crippling housing crisis that hit cities like Detroit and Las Vegas. Still, North Carolina's largest metro was hit hard, according to the Brookings Institution. Single-family properties financed with a mortgage lost 23 percent of their value during the recession and, despite a marginal recovery, are still nowhere near pre-recession rates.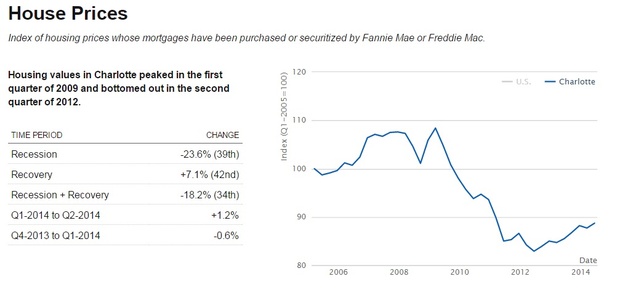 (Brookings

)
Jason McGrath, a Charlotte attorney experienced in real-estate litigation, says the community's support for the debt-forgiveness deal is "mixed." Given how badly the venue has underdelivered, taxpayers naturally balk at wiping its financial slate clean so easily. However, McGrath says, residents know they are likely to benefit, at least indirectly, if the city's debt toward the project is written off. (McGrath chairs a civil service committee for the city, but spoke to CityLab from the perspective as an independent lawyer).
"Of course, the folks that are facing foreclosure and have not been able to get help are looking at this and likely thinking to themselves, 'Well, here we go again,' where it's always the big fish that seem to get the big breaks," McGrath says.
Nearly 16,000 foreclosed properties in Charlotte are either for sale or auction, according to RealyTrac, an online housing database. Would the $18 million being written off for the NASCAR Hall of Fame have better served residential properties currently underwater?
⬧